VALAQ Inigne is a VALAQ 360 version (25kg MTOW) under R&D phase.
Brief solution description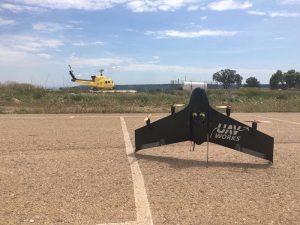 VALAQ Inigne is a VTOL fix wing with long range and flying time specifically designed for minimising fire reignitions during a fire extinction management by an advance command post. VALAQ Inigne launches ball sensors to the ground to get from them many ground and surface air levels like Co2, humidity, temperature, air pressure, oxygen among others. All sensors levels are sent to the drone in which all data will be processed with thermal images taken by an onboard IR camera. VALAQ Inigne will then send all information to an advance command post to be shown in what we call fire reignition probability map. A valuable strategic information to distribute ground forces in order to optimise efforts and resources during a fire extinction.
Description
It is imperative for all societies to have the best fire fighting system, resources and tools to be as much effective as possible against forestall fire destruction. One of the biggest challenges of extinguishing a fire is to localise areas where fire reignition is most probable. Fire reignition causes a huge loss of resources efficiency during fire fighting as it needs to dedicate new fire fighting forces and resources  to be extinguished.
Our solution is demanded and specified by Valencian Fire-fighters Consortium, and also, as part of the research project, a solution designed by them as final users.
Our solution offers a decision making interface in a forward command post during a fire to get the most probable areas in which fire has been already extinguished but reignition is most probable. If you get this information fire fighting commands may distribute more efficiently their firefighters corps and reduce reignition that causes a loss of effective resources. This decision making system will gather up all data send by our drone, a VTOL airplane with range enough to fly over recently extinguished fire to both, launching sensors and taking IR images. Ground sensors get data like CO2 levels, temperature, humidity levels, as well as all critical parameters to deduce a possible fire reignition. Both IR images and data received from sensors from the ground are sent by the drone to the forward command post. We developed and performed an use case during ETHON project leaded by the Valencian Polytechnic University, and the solution is already validated by the Valencian Firefighting Consortium as final user. We are on the starting line for phase 2 of developing and create a final product to be ready for commercial use.
Innovation
Our solution is the result of the joint of two innovative elements basically:
Aerial platform: VALAQ Drone is developed by our company UAV Works Group S.L. and it was awarded and selected by Business Factory Aero (www.bfaero.es) as for being one of the best VTOL airplane that gives extraordinary range and flying time keeping VTOL feature and full autonomous flight. Its particular and unique features make VALAQ the best aerial platform for this mission. Aerospace and Defence Review Magazine has recently selected this drone as 1 of the 10 best UAS systems in Europe, as well as Drone X has nominated VALAQ for innovation award in their exhibition event in London next march 2021
Ball Sensors: These sensors are developed by Pyro Fire Extinction, S.L.U. company and are launched by the drone over the recent put off fire areas to acquire environment parameters like CO2, oxygen, temperature, humidity levels among others in order to be sent to the drone.
Galileo GNSS importance
Galileo geo-reference will be absolutely critical as it is needed for the following different elements:
IR images geo-positioning. Thermal images must be located with extreme accuracy in order to be processed and served into the final user interface. This images will give right data to draw the warmest areas of the surface on a digital map.
Sensor launching geo-positioning. With every launch, the drone will shot a command to save the launching positioning in order to relate the sensor launched to the referred position saved. This is also critical for serving the right information in the decision taking interface to the final user as sensor data is used and processed always in a geo-positioned way.
Drone precision navigation system will use Galileo system for its complete navigation platform, but the most important is that the drone will send wind direction & intensity of the drone track calculated by relating the GNSS speed and direction received and the speed and direction got from the its dynamic pressure of the pitot tube and compass. This wind direction and intensity will also give a constant draw of probable fire direction, and will definitely contribute for the reignition probability map creation.
Forward Command Posts: Firefighters will carry a tablet where the user interface shows the data converted into strategic information. This tablet needs to get its own location in order to relate it to the geo referred information created in a digital map. One of the features that this interface gives to the firefighter is to notice and warn if there are probabilities that fire may threat them around and so create a virtual fence against fire advance that could go around a fire fighting group.